Exercise in Japanese Counters Ver. 1.0 (Freeware)
written by Mariko Kaga (mkaga@carleton.edu) and Kazumi Hatasa (khatasa@purdue.edu)
Department of Asian Languages and Literatures, Carleton College
Department of Foreign Languages and Literatures, Purdue University
---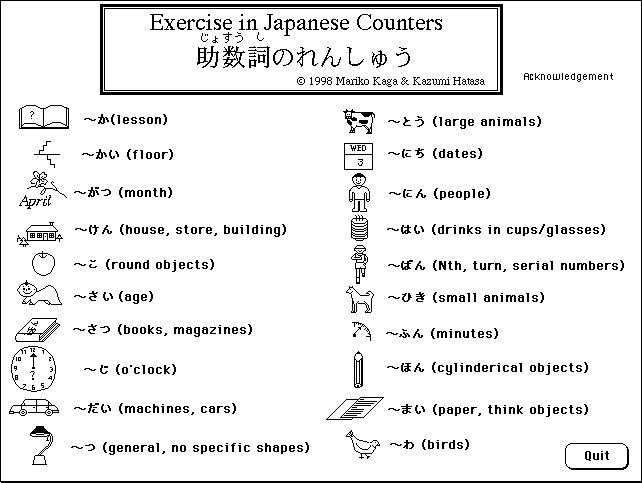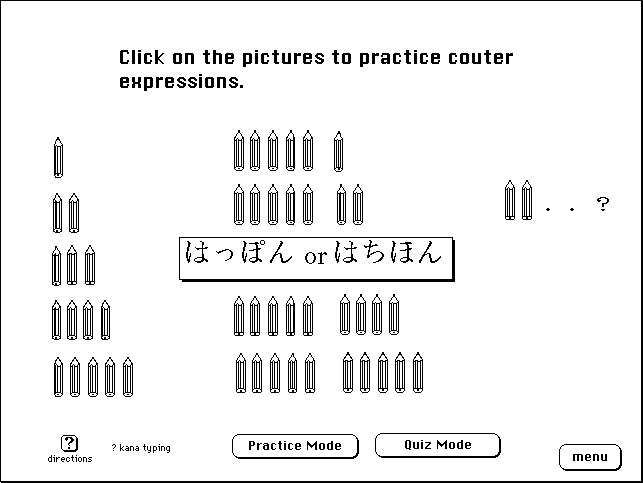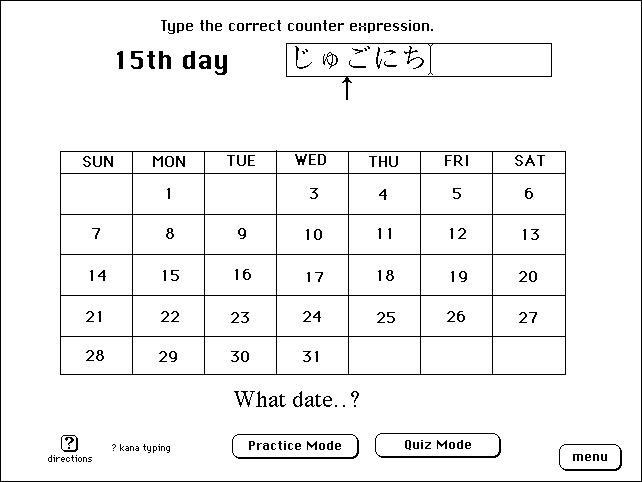 INTRODUCTION
Exercise in Japanese Counters is a HyperCard stack which is designed to give students practice in 20 different counters in Japanese. It makes use of Development Tools for Japanese (Hatasa, Henstock, and Hsu) to handle Japanese characters without KanjiTalk or Japanese Language Kit. HyperCard Player is not necessary.
Exercise in Japanese Counters is a freeware for non-commercial use. Anybody can make a copy and use it on his/her Macintosh. Since it is a HyperCard application, the machine is limited to Macintosh.
The size of the window used in this exercise is set to 640X480. So it requires a monitor which supports the resoulution. Old one-box Macintoshes with 9-inchi monior will not be able to show the entire window.
INSTRUCTIONS ON INSTALLATION
After you have downloaded CounterExercise.sea.hqx, convert(decode BinHex file) them using software like Binhex, StuffIt! and Compact Pro. The resulting files are self-de archiving files, so just double-click on them to extract the content. (If your Web browser is set up to work with such software as mentioned above, de-archiving will happen automatically.) The following files should emerge.
Counter Exercise Starter
dtj resources
ban
dai
fun
gatsu
hai
hiki
hon
ji
ka
kai
ken
ko
mai
nichi
nin
sai
satsu
tou
tsu
wa
Put all files into a single folder on your hard disk. Name the folder. (It does not matter how you call the folder.) Double-click "Counter Exercise starter" to start the program.
DOWNLOAD Counter Exercise in Japanese Ver. 1.0
Send comments to the authors
---
This page was created by Kazumi Hatasa